See on Scoop.it – Yellow Boat Social Entrepreneurism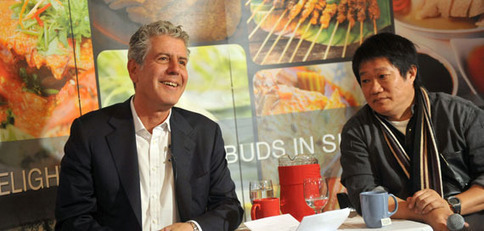 What can American businesses learn from Singapore's open-air markets?
Singapore's humble hawker centers—open-air markets filled with food stalls, each one specializing in a particular dish or cuisine—produce what is arguably the tastiest (and cheapest) food in the country. And according to The Layover host and frequent Singapore visitor Anthony Bourdain, American entrepreneurs would be wise to study their business model.
"Food courts in America are bad things—owned by no one, with food that comes from nowhere," Bourdain said at a recent media lunch in New York City, sponsored by the Singapore Tourism Board. He contrasted chain-heavy U.S. food court denizens with the Singaporean version: largely mom-and-pop operations that do one thing really well, whether it's laksa, nasi goreng, satay, or ice kachang. The stalls are tightly regulated, subsidized, and have relatively low overhead costs, which make it possible for small business owners to thrive.
"This is an example to emulate and a paradise to me," says Bourdain. "Imagine knocking off for lunch and choosing from 20 or 30 specialists for cheap, healthy, real fast food, which even at its worst, is far better than the options we have here."
http://www.inc.com/clarissa-cruz/what-american-restauranteurs-can-learn-from-singapore.html
See on www.inc.com