See on Scoop.it – Yellow Boat Social Entrepreneurism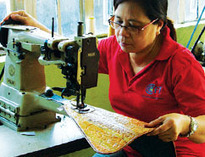 Using indigenous materials for stylish and sustainable bags, this social enterprise delights the customer while empowering the community.
by Noreen Bautista, Co-founder and CEO of Jacinto & Lirio
http://www.JacintoandLirio.com
https://www.facebook.com/JacintoandLirio
https://twitter.com/#!/jacintoandlirio
http://jacintoandlirio.tumblr.com/
Our name is Spanish for "Hyacinth and Lily" because what propelled our existence was the water hyacinth, or "water lily". Our first collection was a collaboration with the world-famous Filipino bag designer, Cora Jacobs who herself had a strong vision to merge fashion and nation building. This project got us involved with Gawad Kalinga Center for Social Innovation and the women from the Cora Cares Foundation which seeks to uplift women's lives through world class bagmaking.
Our story. Back in 2009, we met innovators who introduced what they called water hyacinth leather — the plant's stalks turned into a leather-like material. It's inspiring to know that we can create amazing Filipino innovations and we were driven to show these products to the world.
Our mission. It goes beyond the world of fashion. We are the flagship of the social enterprise EcoIngenuity Inc., which aims to raise the competitiveness of indigenous materials and the communities that produce them through global design brands. Many of these communities still live in poverty, and we believe by creating this market vehicle, we are empowering them with development opportunities and helping build our nation.
See on humanheartnature.com