See on Scoop.it – Yellow Boat Social Entrepreneurism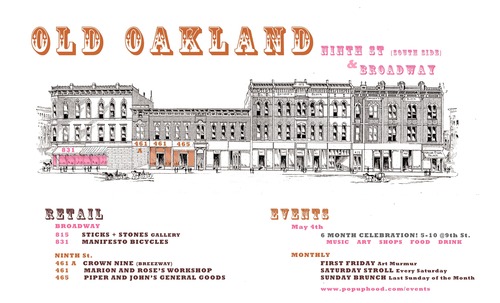 CONNECT:
web and newsletter sign up www.popuphood.com
fb http://www.facebook.com/events/172190786236243/
twitter @popuphood
CONTACT:
popuphood
510. 375.7705
info@popuphood.com
popuphood celebrates 6 months of success!
Oakland, CA—Sarah Filley and Alfonso Dominguez today officially announced the positive impact of popuphood, a new urban initiative and small business incubator revitalizing Oakland, block by block.
This pilot location served as a testing ground for their initiative to rethink retail and the role it plays in revitalizing our cities. popuhood curated Marion and Rose's Workshop, Crown Nine, Piper and John's General Goods, and Sticks + Stones Gallery and offered them 6 months free rent in previously vacant storefronts.
Through cross- sector partnerships, international press and events, popuphood increased creative activity and provided a distinct identity and vibrant local economy to this pilot neighborhood.
See on us2.campaign-archive2.com