See on Scoop.it – Yellow Boat Social Entrepreneurism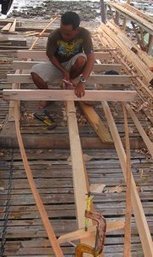 INVENTORY OF BOATS AT LAYAG LAYAG YELLOW BOAT COMMUNITY
By Anton Mari H. Lim in Zamboanga Funds for Little Kids ·
LISTED BELOW ARE COMPLETED YELLOW BOATS AT OUR LAYAG LAYAG YELLOW BOAT COMMUNITY AT CLUSTERS 1-6.
– UNLIKE IN OTHER YELLOW BOAT COMMUNITIES, The boat recipients will have to contribute SWEAT EQUITY in order to be qualify as recipient of our yellow boat. They are responsible in building of their own boats. Those who don't know how to build a boat (none so far) have to work with the CLUSTER LEADER. ZFLK provides them with all HIGH QUALITY RAW MATERIALS to ensure that they will last longer since the boats will not only bring their KIDS TO SCHOOL but also be used in ferrying their SEAWEEDS. They will be in use from SUN UP til SUN DOWN!
– The draw back in making the recipient build their own boats is that it will/may take more time to completely build one but it will definitely ensure SENSE OF OWNERSHIP and will guarantee that they will take good care of the labor of love. We should remember that ALL our recipients are planting/harvesting seaweeds and get to work on their boats during their FREE TIME.
Contact Info
Address
Zamboanga City, Philippines
Website
http://www.facebook.com/philippine.funds 
http://yellowboat.tumblr.com
Email
philippine.funds@gmail.com
https://www.facebook.com/groups/165167500182101/doc/384837271548455/
See on lvhelpgro.net