See on Scoop.it – Yellow Boat Social Entrepreneurism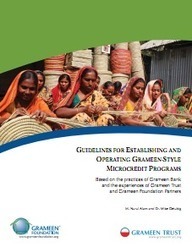 Grameen Guidelines Download Request Form
We create economic opportunities for the world's poorest.
Grameen Foundation provides microfinance institutions (MFIs) in poor communities with access to the capital they need to make micro-loans to those working to develop or expand a small business. In many of the poorest regions in the world, micro-business creation is the only way for families to escape poverty and build a better future for their children.
We build large-scale, easy-to-replicate solutions to end the cycle of poverty in developing countries around the world.
As clients repay their micro-loans, the funds are recycled into new loans, thus multiplying the number of poor people who can begin their journey out of poverty. Grameen Foundation develops and spreads technology and open-source software that can be used by professionals serving the poor to enhance efficiency and lower operating costs. Our mobile phone-based technology projects also fight "information poverty" and provide business opportunities for poor entrepreneurs.
See on gfusa.convio.net