See on Scoop.it – Yellow Boat Social Entrepreneurism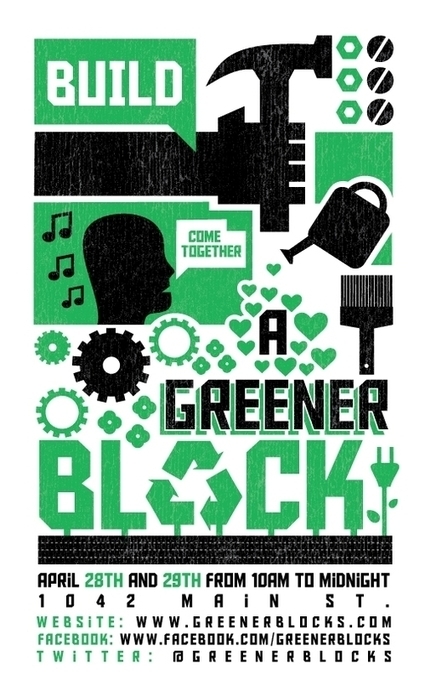 From: Lea Artis
Hi all,
As promised, below is an email I encourage you to forward to your friends, family, colleagues, clients, and basically everyone you know in Las Vegas. I encourage you to include your own details about why and how you're involved, but at minimum just click forward to spread the good word and show LV what we're made of! You can also display the poster at your business, school, or building (see attached).
Begin Forward:
__________________________________________________________________
I want to tell you about this really cool event we have coming up next week- Saturday & Sunday April 28 & 29, Build a Greener Block. I've recently discovered this group downtown called the Green Jelly made up of small businesses and sustainable-minded Las Vegans. For the weekend of the 28th & 29th, we're taking over a run down, depressed block on Main Street (right off of Charleston where the Attic used to be) and we're creating a pop up community full of art, music, food, wellness, and more. There are over 70 different volunteers helping to create and build the community and its like nothing Vegas has ever seen.
When: Saturday, April 28th, 10am – Midnight and Sunday, April 29th, 10am – Midnight
Where: The entire block of 1042 S Main Street Las Vegas, Nevada, 89101
Special Guests: The Band Recycled Percussion, Chef Stacey Dougan, Sculptor Sharon Gainsburg, and others.
MOST IMPORTANT: How can you get involved? Spread the word, sign-up to volunteer here: www.greenerblocks.com/volunteer/, and donate $5 here: http://www.indiegogo.com/greenerblocks We only have $1700 left to raise for our city permits!
Find out more: greenerblocks.com, facebook.com/greenerblocks, or twitter.com/greenerblocks
See on lvhelpgro.net