See on Scoop.it – Yellow Boat Social Entrepreneurism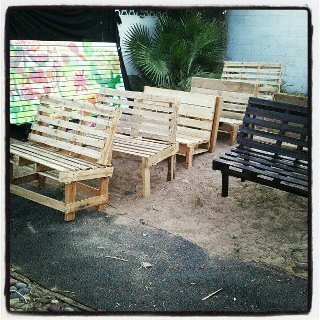 From: Ly Dao, Architect and GreenerBlocks.com community advocate
Hello all!
Thanks to everyone that came out last weekend to build these fantastic looking furniture pieces!!
We will have another build session this weekend.
WHEN & WHERE: Sat & Sun April 21-22 (9am-6pm both days) @ my house 618 Park Paseo 89104 (Charleston/ Las Vegas Blvd – Downtown)
Attached is what we have built so far!!!
We have pallets that we need help in dissembling, then turning them into furniture and painting them!
If you can bring extra tools. i.e hammer, nails, brushes, saw, table horse, tape measure, extra lumber, paint and anything else that would help
We have numerous amount of furniture to build.
Also, If you have extra Corn-starch, Flour, & green food coloring laying around we need these to make our green bike lanes for the event!!!
Furniture ideas http://www.flickr.com//photos/29550558@N06/sets/72157629741895861/show/ )
See on lvhelpgro.net