Via Scoop.it – Yellow Boat Social Entrepreneurism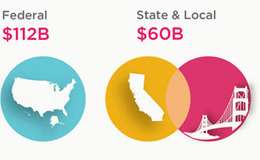 Code for America is launching a new civic startup accelerator.
The 4-month program will focus on early stage startups, providing them the network and training needed to grow their businesses. Every month, the startup teams will be brought together in CfA's San Francisco offices for intensive week-long curriculum led by industry experts; coupled with networking events with investors. Throughout the remainder of the program, the startups will have access to hands-on mentorship, administrative support, and office space.
The program will start August 2012; the deadline for applications is June 1, 2012.
Code for America launched with the CfA Fellowship, an annual program, which pairs passionate technologists with innovative city governments to build new solutions to civic problems. (To learn more about the broader context of CfA's work, see Jen's recent TED Talk.)
http://codeforamerica.org/2012/03/08/jennifer-pahlka-at-ted-video/