Venez rencontrer Antonio Meloto, social entrepreneur et fondateur de l'association Gawad Kalinga du 25 octobre au 07 novembre !
Meet Antonio Meloto : social entrepreneur and founder of Gawad Kalinga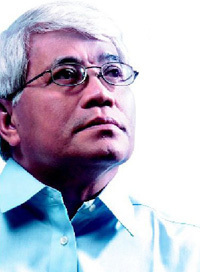 Antonio Meloto is the kind of person who give life to dreams: "Philippines will rise out of Poverty and Become a First World nation by 2024". This social entrepreneur, founder of the association Gawad Kalinga, is also a visionary by educating thousands of people around the world to volunturism in order to improve the living conditions of the poorest of the poor.
In addition to fighting against the material needs, he developed a sense of community responsibility in the most disadvantaged populations. Since its inception, Gawad Kalinga has created a home to thousands of squatters or homeless, feed thousands of starving people, reduce crime in the most disadvantaged areas …
Gawad Kalinga and Tony Meloto organize a series of conferences in France and England around the themes of social entrepreneurship. Take this opportunity to meet and listen the fabulous story of this social entrepreneur from October 25 to November 7:
ESSEC – oct 25 -evening => Anne-Claire Pache and team
http://iies.essec.edu/en/content/team
HEC – oct 26 – Bénédicte Faivre-Tavignot (Danone/Grameen)
http://www.hec.edu/Certificates/Social-Business/Faculty
E M LYON – oct 27 – Saulo Barboza, Françoise Dany OCE, Entrepreneurship d'Alain Fayolle, WEF administrators
http://www.em-lyon.com/france/professeur/barbosa/index.aspx
http://www.world-entrepreneurship-forum.com/
SCIENCES-PO Paris – oct 28, 6pm (débate between Antonio Meloto an Jacques Attali) – Virginie Seghers
http://www.virginieseghers.com/
OXFORD/Skoll Center for S.E. oct 29-30-31 – EMERGE 2011 
http://www.theemergeconference.org/speakers.html
LSE- London School of Economics & Politics -nov 03, pm – Harry Barkema
http://www2.lse.ac.uk/management/people/hbarkema.aspx
LBS – London Business School Prof Michael Hay – nov 4, pm
http://www.ucl.ac.uk/advances/training/lbselectives/Electives_Offered_11-12__ALL_OUTLINES.pdf
INSEAD-Fontainebleau – nov 7, 12h30 – Hans Wahl
Hope you will join us !